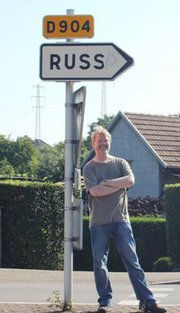 I'm a UK-based writer, journalist, and editor who prides himself on his versatility.
The biggest portion of my work is in science, engineering, and technology, and you can find examples in MailOnline, Lab News, Electro Optics, and many other fine publications (more details on my current work page). I have a background in engineering and lifelong interest in anything geeky.
My other main activity is travel, motoring and motorcycling, and outdoor leisure. As well as business travel, I've done a fair bit of back-to-basics backpacking and exploration. I've camped on five continents, rafted down the Mekong, dived on the Barrier Reef and got altitude sickness in the Andes. Recently I've focused more on travel in the UK and Ireland, on the road exploring and reporting on destinations from Caithness to Cornwall and from Kerry to Kent.
I enjoy photography and videography, and take the opportunity to illustrate my work whenever possible. Online video has been a particular interest and I was pleased to be able to pioneer its use for a number of specialist titles within The Engineer group in the early 2000s.
I'm in the market for freelance assignments, and will be happy to discuss your ideas and projects. My work has appeared on line, on paper, and even on screen in outlets from the famous to the obscure, including the Guardian, Daily Mail, Financial Times, BBC TV, Encyclopaedia Britannica, Private Eye, Ideal Home, Concrete Quarterly, Caravan, and many others.
I have launched and edited magazines covering civil engineering, structural engineering, and chemical engineering, a newsletter for research scientists, and websites for the process industry and the laboratory sector. I did a spell as locum editor of the Royal Society of Chemistry's membership magazine Chemistry World, and have provided editorial consultancy services to clients in the pre-launch and launch phases of new magazine projects.

You can find me on LinkedIn, Facebook, and Twitter.
The best way to contact me is by email to himself@russswan.com