¡Hola amigos! Spanish translation makes an impression
3 September 2021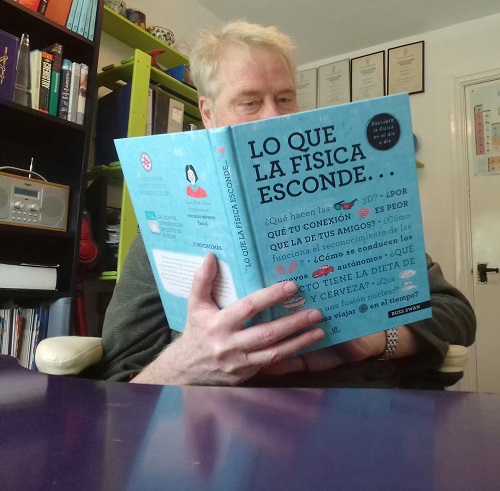 Well, look at this – a copy of the Spanish language edition of The Physics Behind… or, if you prefer, Lo Que La Fisica Esconde.
It was something of a surprise to me that this even existed, and I only found out when I set up my author page on Goodreads, a sort of social media site for booky types. I found I was credited as the author of a handful of books that are not my work (there is another Russ Swan out there, probably in Australia, who writes about sailing), as well as the English and Spanish editions of TPB.
This makes, altogether, five editions. The first edition UK/RoW, published by Octopus Books (part of Hachette, one of the big four publishers globally), and the first US/NAm edition publishd by Firefly. Then there is the second UK edition, reprinted due to demand, the e-book/Kindle edition, and now this foreign language number.
Lo Que La Fisica Esconde is published by Libsa, and differs from the original (besides the language) in being physically larger and (gasp!) hardback. I have to say, it's a bit swanky. Translation is by Sandra Marín Aragón, to whom my thanks.